Pablo: We have won but I am not satisfied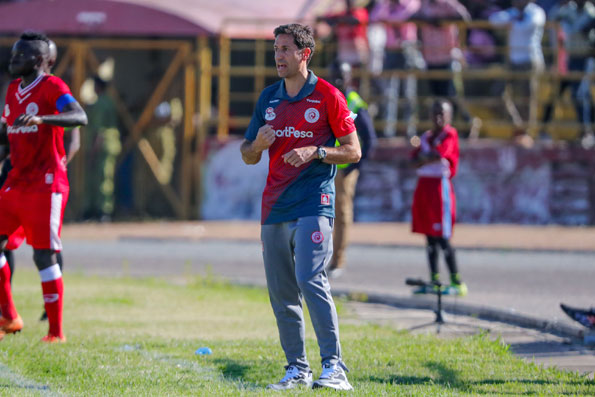 COACH Pablo Franco has the upper hand, as despite leading the Lions for the first time and winning 3-1 against Ruvu Shooting, he has said he is not satisfied with the football his team has played for the size it has.
The Lions got the victory at the CCM Kirumba Stadium, in Mwanza while beating it a lot differently than it was under Didier Gomes who was employed by the Mauritanian national football team.
Despite the victory giving the Lions three crucial points and reaching 14 after playing six matches in the league this season, Coach Pablo said in the game there are many shortcomings he has seen in his youngsters and now he is going to work on them before their next games including the Cup. African Confederation Cup against Zambia's Red Arrows on November 28 in Dar es Salaam.
"I'm happy with the result, but with the size of Simba we deserved more than what we got, I'm going to work on the shortcomings I saw," said Pablo.
However, the Spanish coach said the victory would boost his players' morale for the upcoming league games alongside that of the ASFC and CAF Cup.
Pablo said he spoke to his players before the game so the way they did the first half was exactly what he needed, before the sharp decline in the second half which was dominated by their hosts.
Assistant Coach Hitimana Thiery also commended all the players for the way they fought to ensure the team gets results on the field.
"They have all done well to be honest. I can't say one player at a time. They have all fought.
"The goalkeeper knows his responsibilities have helped them a lot otherwise it was a lot of goals we would have won, I commend him for his personal efforts to help his team," he said.
For his part Makaka said the game was difficult for them from the way the Lions were attacking their gate.
He said the Lions bothered him a lot and that is why his mind was on the field to make sure he reduces the number of goals.
"The match was tough, the Lions were very fast going up and down they were all blocking and attacking so it made me even more focused," said Makaka who saved Erasto Nyoni's penalty which would have given Simba the fourth goal yesterday.
On the penalty spot he said "My job is to make sure my gate is not shaken but I have no way when it happens I am locked up it is just part of the game, we are planning for the next matches.